---
| Image | Company Name | Categories | Types | Cities | Countries |
| --- | --- | --- | --- | --- | --- |
| | VIPKID | Education | Freelance, Full Time, Part Time | Remote | Remote |
Can I apply if I don't have a Bachelor's degree?
We are very strict about applicants' education level and require you to have at least a Bachelor's degree. We require this because this is something that the parents of the children in China that we teach care about and trust that we are maintaining.
Where do I have to live in to be eligible to work for VIPKid?
You can work with us from anywhere as long as you have a stable Internet connection.
What is the application process like?
Applicants pass through five stages before becoming VIPKid teachers:
1. Basic Info: Fill in an online application form, so we can screen for basic requirements and teaching experience.
2. 1-1 Interview or Recorded Interview: Join us for a 30-min session where you showcase your teaching skills to a VIPKid recruiter OR Record your demo lesson at your own time so that a VIPKid recruiter can evaluate you.
3. Introduction to Teaching: Watch videos to learn about the VIPKid technology, standards and curriculum.
4. Mock class: Practice teaching a full-length class with one of our VIPKid teachers.
5. Sign your contract, upload docs & complete background check: The information you provide will help us comply with our online safety and security standards and create a profile that allows VIPKid students and parents to know you and book you.
6. Full-fledged VIPKid teacher: Put your time slots on your portal so that VIPKid students can start booking you. Get ready to teach!
What is the payment?
As an independent contractor, your payment or "service fee" is calculated on a per-class basis (scheduled in 30-minute slots) and is composed of a minimum pay between $7-9 + incentives. Your minimum pay will be determined by your demo class performance, while incentives are determined by your monthly class participation and completion.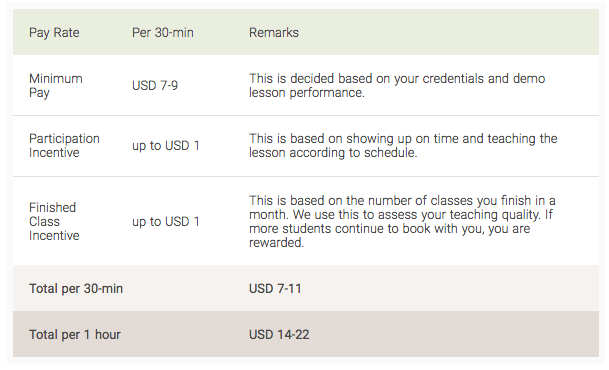 ---